ZAR buys IT, mailing, printers, inserting equipment and more.
ZAR Corp buys pre-owned high-speed printing systems, as well as pre-and post-processing equipment, mailing inserters, folders and accessories. We also buy consumables, as well. In fact, we will buy almost any type of  business equipment you may have!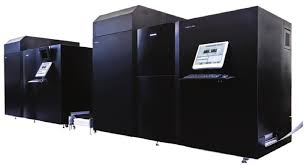 We will buy surplus, unused or unwanted office machine consumables – imaging supplies, toner, etc.
Help the environment by "going green" through our equipment recycling program – we will come to your location, remove ALL data, deinstall your unwanted equipment, pack it and remove it from your premises!
Data center consolidation? We maximize your return on surplus equipment or obsolete technology. We can properly transfer ownership of unwanted IT equipment.  Leverage our expertise and experience, if you have used or out-of-service equipment to sell.
ZAR Provides:
VERSATILITY – While many vendors will buy only limited items, we will buy ANY and ALL of your unwanted equipment. From one piece to hundreds, we will handle all of your selling needs.
DEINSTALLATION – We will deinstall and remove all your equipment.  You won't have to lift a finger.
Email us the details on what you have for sale at  Buy-Sell@zarcorp.com
Need help with any of the following?
| | | |
| --- | --- | --- |
| Equipment Liquidation | Equipment Reselling | Asset reMarketing |
| Asset Recycling | Equipment De-installation | Equipment Recycling |
| Technology Trade-ins | Asset Upgrades | Surplus Equipment |
| Obsolete Technology | Used Equipment | Out-of-Service Machinery |
| Excess Equipment | Discarded Equipment | Unused Technology |

We will come to you and take care of everything – data destruction and deinstallation, packing and removal. Hassle-free!
For over 20 years, we have bought:
| | | |
| --- | --- | --- |
| Auction Equipment | Used Technology | Equipment Consolidation |
| Technology Disposal | Technology Exchange | Equipment Liquidation |
| Technology Recovery | Equipment Recycling | IT Equipment Optimization |
| Equipment Relocation | Technology Remarketing | IT Equipment Refurbishing |
| Equipment Reselling | Technology Trade-ins | Asset Upgrades |