We sell New On-A-Roll Lifters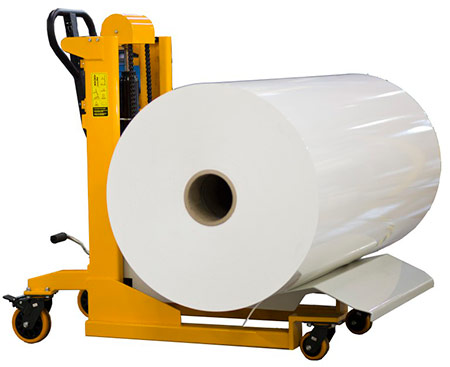 Take advantage of ZAR Corp's legendary unbeatable prices, unsurpassed quality and amazing service.
Features
On-A-Roll Lifter was designed specifically for grand and wide format printers, sign makers and anyone responsible for lifting wide or heavy rolls. Sturdy steel construction allows the lifting of up to 2200 lbs and 16.4' wide (depending on model). Extended nylon safety straps provide leverage to help guide the roll into a specially designed high walled transport tray and ensure matrerials are secured for transfer. Foot pump allows for smooth effortless lifting. 360º heavy-duty rotating (and locking) caster allow you tp maeuver through standard doors and narrow passages.
Item

Description

Price

FOS-61579

Compact On-A-Roll Lifter;
Lifts rolls up to 200 lbs 72" wide

$995.00

FOS-61574

Low Profile On-A-Roll®
Lifter up to 660 lbs

$1,695.00

FOS-61584

Standard On-A-Roll® Lifter
for rolls up to 8.2' wide

$1,695.00

FOS-61586

Standard On-A-Roll® Lifter
for rolls up to 16.4' wide

$1,695.00

FOS-61580

Universal On-A-Roll® Lifter
for AGFA Printers NEW!

$1,695.00

FOS-61570

Hi-Rise On-A-Roll® Lifter
for rolls up to 71" H

$2,130.00

FOS-61577

Jumbo On-A-Roll® Lifter up
to 990 lbs

$2,540.00

FOS-61590

Grande On-A-Roll® Lifter up
to 1540 lbs

$3,295.00

FOS-61591

Grande Plus On-A-Roll®
Lifter up to 2000 lbs NEW!

$3,395.00

FOS-61594

Grande Max On-A-Roll®
Lifter up to 2200 lbs NEW!

$3,495.00

FOS-61592

Spinner On-A-Roll® Lifter
up to 992 lbs NEW!

$3,510.00

FOS-61595

Power Jumbo Media Lifter up
to 16.4' wide & up to 992 lbs NEW!

$3,870.00
ZAR CORPORATION
800-474-7316
612-455-4558
Fax: 1-952-516-5280
E-Mail: BUY-SELL@ZARCORP.COM or Tom@ZARCORP.COM