We sell New Keencut cutters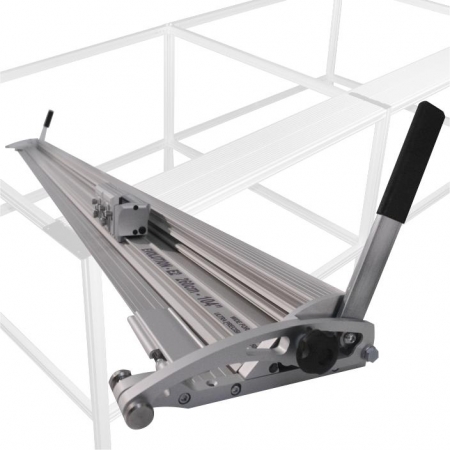 Take advantage of ZAR Corp's legendary unbeatable prices, unsurpassed quality and amazing service.
SteelTrak Cutters
The Keencut SteeTraK sheet material cutter is a heavy duty ultra strong cutter designed and purpose built for signmakers. This free standing or wall mountable device will allow you to cut glass, 4mm aluminum composite board (DiBond) and 13mm foamboard in one pass leaving a remarkably smooth and square finish. SteelTrak includes three cutting tools – Box of 100 medium duty utility blades, Utility blade, acrylic scoring blade & composite twin wheel cutting tool. Wall Mount Kit.
Evolution Cutters
The heavy duty cutter bar clamps materials securely. Using a Graphix utility blade, it cuts everything from inkjet media and vinyl, to rigid substrates like Sintra, Styrene and Gatorboard up to ½" thick. The new cutting head design provides bi-directional cutting with easy interchangeable cutting tools. The Evolution features an attachable textile cutting wheel! When cutting fabrics or other thin materials; the cutter bar can be repositioned over a special textile cutting surface to prevent fraying. Flip-over stops on both sides adds horizontal clamping to increase accuracy, prevent slips & reduce cutting time.
Sabre Series Cutters
Designed to cut a wide range of sheet materials, the Sabre Series 2 offers a standard of straight, square and clean cutting. The new cutting head features a reversible Graphix blade making the Sabre Series 2 ideal for left-handed and right-handed operators. It is designed for use on a bench or attached to the optional stand. The innovative hinge and lift arm mechanism makes it possible to cut materials, which are longer than the length of the cutter. It also accepts materials of varying thickness without affecting either the line of angle of cut. The extruded and silver anodized aluminum base incorporates a narrow groove to accept the blade tip when cutting. Includes 10 Graphik Blades, 100 medium duty blades and a 45mm Textile cutting wheel.
Item

Description

Price

KC-60951

Evolution 2 Work Bench for
84" E2

$1,015.00

KC-60736

60" Sabre Series 2 General
Purpose Cutter

$1,020.00

KC-62358

Stand, Catcher, Roll Feeder
for Sabre 60738 100"

$1,030.00

KC-62358

Stand, Catcher & Roll
Feeder for 60611 – 100"

$1,030.00

KC-60989

50.75" Depth Extension for
144" Evolution Bench

$1,070.00

KC-60952

Evolution 2 Work Bench for
104" E2

$1,080.00

KC-60940

Proteus Work Bench for 124"
Javelin Integra & General Purpose

$1,080.00

KC-62359

Stand, Catcher, Roll Feeder
for Sabre 60739 120"

$1,095.00

KC-62359

Stand, Catcher & Roll
Feeder for 60612 – 120"

$1,095.00

KC-60932

BIG Bench Xtra Cutting Table
for Javelin Series 2 – 84"

$1,115.00

KC-60286

Javelin Integra Large Format
Cutter (JIT 160) – 64"

$1,155.00

KC-60953

Evolution 2 Work Bench for
124" E2

$1,160.00

KC-60278

Javelin Series 2 Cutter Bar
– 104"

$1,160.00

KC-60737

80" Sabre Series 2 General
Purpose Cutter

$1,170.00

KC-61727

75" Cutter base, AZ Knife
Carrier & Silicon Tape

$1,185.00

KC-61737

75" Cutter Base, Knife
Carrier & Silicone Tape

$1,185.00

KC-60934

BIG Bench Xtra Cutting Table
for Javelin Series 2 – 104"

$1,190.00

KC-60287

Javelin Integra Large Format
Cutter (JIT 210) – 84"

$1,270.00

KC-60941

Proteus Work Bench for 144"
Javelin Integra & General Purpose

$1,270.00

KC-60936

BIG Bench Xtra Cutting Table
for Javelin Series 2 – 124"

$1,275.00

KC-60738

100" Sabre Series 2
General Purpose Cutter

$1,315.00

KC-60279

Javelin Series 2 Cutter Bar
– 124"

$1,315.00

KC-61745

36" Hot Cut System w/HSGM
Heat Knife Pkg

$1,325.00

KC-60288

Javelin Integra Large Format
Cutter (JIT 260) – 104"

$1,400.00

KC-60954

Evolution 2 Work Bench for
144" E2

$1,410.00

KC-61808

FLEXO Futura Cutter – 40"

$1,425.00

KC-60739

120" Sabre Series 2
General Purpose Cutter

$1,470.00

KC-61729

115" Cutter base, AZ Knife
Carrier & Silicon Tape

$1,470.00

KC-61739

115" Cutter Base, Knife
Carrier & Silicone Tape

$1,470.00

KC-61747

75" Hot Cut System w/HSGM
Heat Knife Pkg

$1,495.00

KC-61812

FLEXO Futura Cutter – 48"

$1,500.00

KC-60289

Javelin Integra Large Format
Cutter (JIT 310) – 124"

$1,595.00

KC-61816

FLEXO Futura Cutter – 62"

$1,620.00

KC-60386

EVO-2160 Evolution E2 Wide
Format Cutter – 64"

$1,670.00

KC-61749

115" Hot Cut System w/HSGM
Heat Knife Pkg

$1,795.00

KC-61820

FLEXO Futura Cutter – 86"

$1,795.00

KC-60387

EVO-2210 Evolution E2 Wide
Format Cutter – 84"

$1,820.00

KC-61210

Ultimat Gold 40"

$1,990.00

KC-60388

EVO-2260 Evolution E2 Wide
Format Cutter – 104"

$2,035.00

KC-61212

Ultimat Gold 48"

$2,085.00

KC-61214

Ultimat Gold 62"

$2,190.00

KC-61310

Ultimat Futura 40"

$2,225.00

KC-60389

EVO-2310 Evolution E2 Wide
Format Cutter – 124"

$2,245.00

KC-61312

Ultimat Futura 48"

$2,335.00

KC-60390

EVO-2360 Evolution E2 Wide
Format Cutter – 144"

$2,405.00

KC-61314

Ultimat Futura 62"

$2,450.00

KC-60364

Excalibur 1000X Vertical
Cutter – 63"

$2,740.00

KC-60376

Excalibur 5000 Vertical
Cutter – 63"

$3,490.00

KC-60380

65" SteelTrak Sheet
Material Cutter – Incl. 3 Cutting Tools

$4,165.00

KC-60385

82" SteelTrak Sheet
Material Cutter – Incl. 3 Cutting Tools

$4,690.00

KC-60383

98" SteelTrak Sheet
Material Cutter – Incl. 3 Cutting Tools

$5,675.00
ZAR CORPORATION
800-474-7316
612-455-4558
Fax: 1-952-516-5280
E-Mail: BUY-SELL@ZARCORP.COM or Tom@ZARCORP.COM